Many people are advised to stay at home in case they are tested positive for COVID-19. They should isolate themselves for 14 days and make sure to take all the precautions. Apart from the medications and precautions that your doctor has prescribed, you can check some general tips on fighting and recovering from COVID at home. Let's take a look:
For Shortness of Breath: If you feel that you are experiencing shortness of breath due to COVID-19, you should calm yourself down. Do not be anxious. Once you have clam, try doing some meditation techniques, it will help you fight it. To do so, check out the various postures given below. These are the best sleeping positions that will help your lungs to function better. In every hour, you should change the position. Do not sleep on your back as it will put a lot of pressure on your lungs.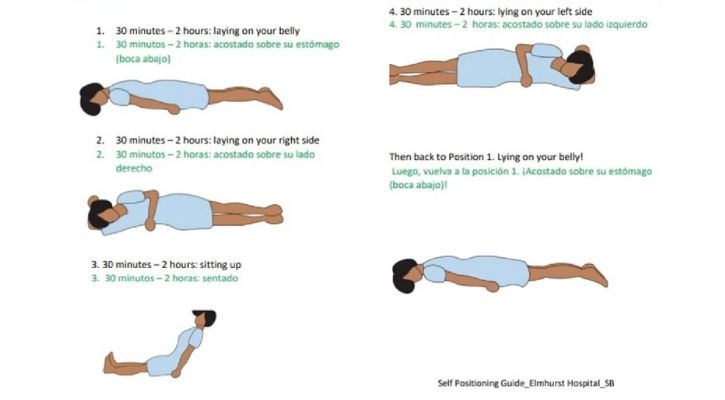 Dry cough: If you are coughing a lot then do proper steam inhalation. To get relief try a saltwater gargle. To soothe your irritated throat, mix honey and lemon in warm water and drink it.
Phlegmatic cough: Try to move around in your room, for your phlegm to move, this will help your lungs to function better, eventually, the phlegm will come out. Whenever you are lying down, be on the right or the left side. The phlegm gets drained very fast. Also, drink lukewarm kadha (Decoct), herbal teas, soups, broths, or water while suffering from COVID-19.
Have you read?
Turning dead leaves into paper: A unique initiative by a Ukrainian student Valentyn Frechka
Sameera Jalan, 16 year old girl Helps Rural Women to earn 700 rupees every week
Do Not Give Up: The Inspiring Story of Chartered accountant turned Youtuber Aleena Rais
Emotional well-being: The first thing to avoid for emotional well-being is to stop watching the news. Take a break from it. Connect with your loved ones through video or phone calls. Try playing some games that do not require much physical exertion. Read motivational stories to help you deal with the disease better.
Eating healthy: Last but not the least, you should eat healthy food.
(A). Protective foods: To defy coronavirus, Eat food with a lot of minerals and vitamins. This will help in building immunity. For example Minerals like iron, copper, and zinc help in influencing the immune responses. Vitamin C, E, and A can be consumed by eating seasonal fruits like oranges.
(b). Bodybuilding foods: Your body becomes very weak and lethargic. Drink milk, animal foods like fish, poultry, meat, and eggs to give your body a good amount of protein.
(c). Energy foods: as COVID-19 sucks the energy out of you, Try consuming food that gives you energy like sugar, cereals like maize, rice, and wheat. These are high in carbohydrates. Thus, give you a lot of energy.
We wish for your safety and good health. Please be safe and follow government covid-19 guidelines. Do not go outside until it's very necessary. Wear double-layered masks (one surgical mask beneath a cloth mask or a single mask if using N95). Wash your hands frequently, use sanitizer, avoid touching your face, donate plasma, and do not forget to be kind to one another